Book Your Next Team Charter with Iron Range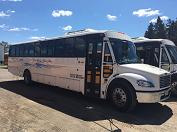 Is your school or sports team planning an out-of-town game? Iron Range Bus Lines, Inc. can take care of all your sports team charter needs.
We provide transportation that is affordable and safe for your team outing.
No matter how small or large your team, we can accommodate your needs. Our buses and vans can comfortably fit 12 to 72 passengers, and contain the latest in safety standards. Our buses include front gates and glow-in-the-dark luminescent tape, making for safe nighttime driving. The bus interior is very well-padded, and does not contain any open steel, to prevent injuries. Other emergency features include signal lights, crossing arms and an emergency exit at the back. Pop-out windows, an extensive mirroring system and a radio system provide further security. Iron Range provides a safe charter service for children and adults.
To book your next team charter, please visit our Book a Charter page.