Book Your Next Shuttle with Iron Range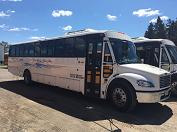 Looking for an affordable and reliable shuttle service? Iron Range Bus Lines is Thunder Bay's preferred shuttle service. Offering friendly, safe and affordable shuttle service for over 60 years, Iron Range can accommodate your group's needs, no matter how big or small. Name your location - we'll take you there.
Iron Range Bus Lines has both vans and buses available, which can accommodate groups ranging in size from 12 to 72 people. We can transport your group to the airport or any other location safely and reliably. With affordable hourly rates, we are Thunder Bay's most cost-effective shuttle!
To book a shuttle with Iron Range, please visit our Book a Charter page.